If you're wondering how much an estimated moldeo por inyección quote costs, there is no single correct answer. A smaller, less complicated mold could cost around $3,000, whereas a larger, more complex mold could cost well over $100,000. It is critical to remember that the figures presented here are only estimates, not exact totals.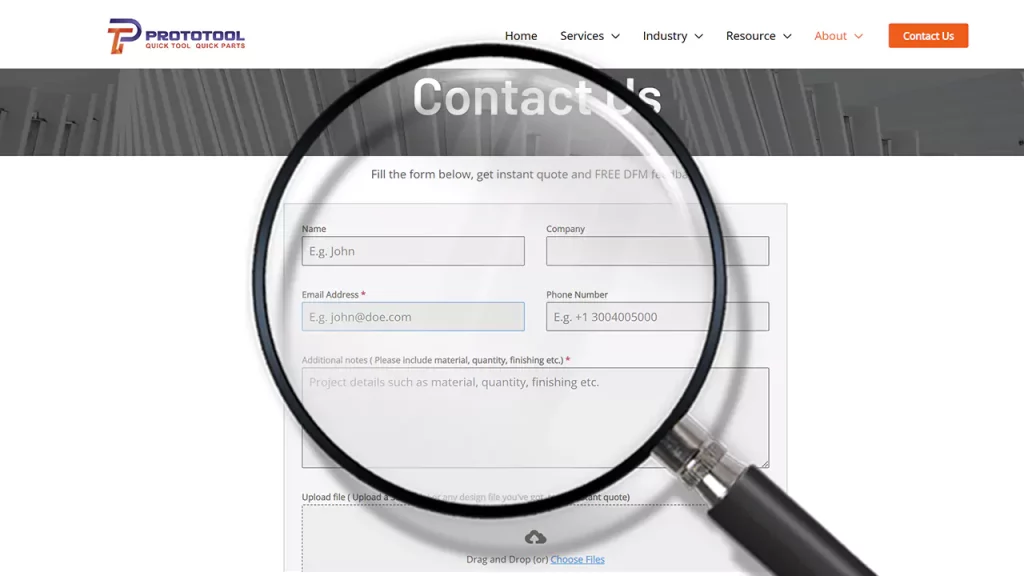 You must consider several factors when calculating the total injection molding quote estimate. This all-inclusive guide has broken down each of these numerous pricing considerations. We have been operating in the injection molding industry for many years. If you think we have a good point of view, please feel free to contact us.
Calculation Method Using Empirical Data:
The price of a mold is calculated as the sum of the following costs: materials, design, process and profit, value-added tax, tryout, packing, and shipment. The typical ratio is as follows:
a. The cost of raw materials: raw materials and standard parts accounted for 15 to 30% of the total cost of the injection mold. In an ideal world, it would be calculated as * unit price * utilization rate
b. Design fees range from 10% to 15% of the total cost.
c. Profit and process: 30%-50% of total cost
d. Packing and shipping costs: actual or calculated at 3% of total cost; • Value-added tax rate: 17%
Injection Molding Quote: A Breakdown of Costs
1. Molding and Tooling Costs:
- Part Complexity:
The degree of difficulty of the component to be manufactured significantly influences the initial cost of mold tooling. Tooling for plastic injection molded parts with many sharp corners, thin ribs, or undercut features is often more expensive. This is because these features increase the part's complexity.
Suppose the sharp corners prevent a round cutter from being used to machine the mold features. In that case, they will need to undergo a secondary machining process known as EDM (electrical discharge machining). Similarly, rib features that require deeper than 0.5 inches and thinner than 0.0625-inch machining into the mold may necessitate secondary EDM machining. It is because secondary EDM machining is more precise than traditional machining.
Any plastic part design that includes an undercut feature will invariably result in a price increase for plastic injection molds. Undercuts increase the cost of both the time spent designing the mold and the time spent machining it. In some cases, they may also necessitate increasing the overall size of the mold to accommodate the "side actions" (moving parts) responsible for the formation of the undercut features.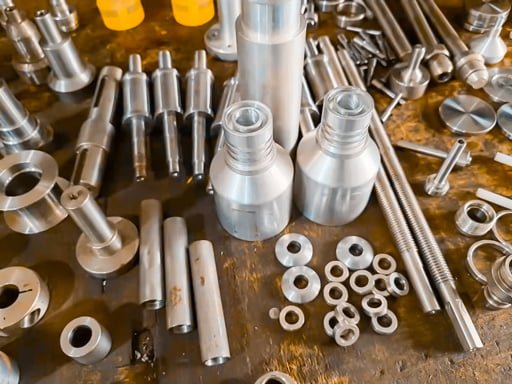 - Mold Development:
The injection molding industry employs various construction methods for various part shapes. Each of these methods serves a distinct purpose in the industry. However, you can make things much easier on yourself by categorizing these techniques as "insert molds" or "free-standing molds."
Regarding the overall injection molding quote, insert-style molds will be significantly less expensive than free-standing molds.
Numerous types of side actions can be used to construct a mold during part ejection. These side actions are used to unlock plastic parts with undercuts. The term "hand load" is commonly used in the industry to refer to many competitors' low-cost side action mechanisms. Hand loads are dangling mold components that are ejected from the mold together with the part. At the start of each molding cycle, these hand loads must be manually removed from the part and re-inserted into the mold.
Hand loads are a low-cost tooling alternative used in the mold to address undercut part characteristics. However, hand loads can lead to increased part cost and inconsistencies in part quality. Automatic side actions are used in the molds of reputable companies such as Prototool because we allow for a faster and more stable injection molding process. As a result, consumers benefit from superior parts at a lower cost.
Injection molds with automatic side actions have a higher production cost than hand-load molds, but only for quantities of several hundred pieces or more. In most cases, the payback in cost savings will be sufficient to offset the additional overhead costs.
- The number of Part Cavities:
The cost of the mold will be proportional to the number of part cavities contained within it. Parts that require a small number of parts per customer order will be built as a one-cavity mold to produce only one part per machine cycle. On the other hand, parts that require a large number of parts per customer order may be built as a two, four, or eight-cavity mold to produce several parts per machine cycle. The mold will only produce one part in either case.
When analyzing mold cavitation and the overall injection molding quote, keep in mind that the item's price is inverse to the cost of the mold. Multi-cavity molds will almost certainly be more expensive than single-cavity molds.
- Size of the Part:
The size of the mold required to produce a plastic component is directly proportional to the size of the component itself. Manufacturing larger molds need more building space and more extensive and expensive CNC technology and equipment.
However, the cost-to-size relationship is sometimes a straight line, depending on the circumstances. For example, consider the cost of a smaller injection mold with a very intricate design. It can sometimes cost more than a more extensive injection mold with a relatively simple design.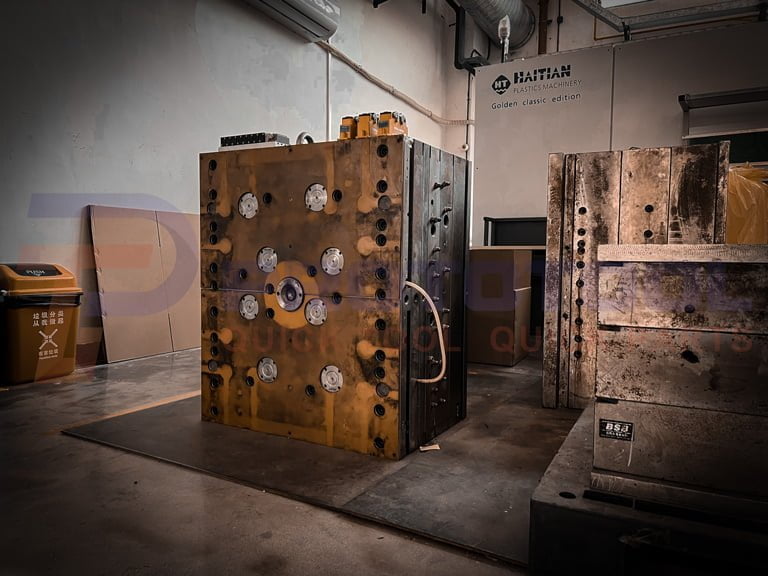 2. Mold Cavities and Cycle Time:
Injection molding and CNC machining use the term "cycle time" in their respective industries. Generally, it refers to the time needed for a machine to complete one production cycle. The time required for the injection molding cycle is entirely made up of the following processes:
The mold's expiration date
The injection's filling time
Waiting for the injection pack
four. the amount of time spent cooling
The mold's opening
Partial ejection or departure time
Looking forward to the next cycle
3. Non-Material Related Costs:
• The Price of Machining:
Let's start with the tools and other equipment. The cost of purchasing high-tech, servo-driven injection molding machinery is relatively high in today's market. The total capital required to run production will be determined by the machine's tonnage size rating and the support equipment surrounding the unit. Smaller tonnage machine sizes are used when running small molds and parts, whereas larger ones are required when running large molds and parts.
Even a small máquina de moldeo por inyección and the necessary ancillary equipment can cost close to $100,000, while giant machines can cost millions. It should be no surprise that the machinery has a limited useful lifespan because it will eventually become obsolete due to normal wear and tear and the introduction of newer technology. Once one realizes that the cost is the machinery's total capital investment divided by the effective lifecycle of the machinery, it is easy to see how this transfers into an hourly operational cost of ownership of the machine.
• Capital Expense:
A combination of fixed and variable expenses, such as industrial space rent, electrical power usage, and other items, would be considered secondary to the capital equipment costs described earlier. These costs are quickly broken down into hourly operational costs using simple mathematics.
• Sum of Non-Materials-Related Costs Plus Profit Margin:
The "machine rate" will be calculated by adding all hourly expenses unrelated to the materials used in the manufacturing process and subtracting a profit margin from the total.
Finally, here's how cycle time is used to calculate the simple non-material related cost of an injection molded part:
The number of units produced per hour is calculated by dividing 3600 seconds by the cycle time in seconds multiplied by the number of mold cavities.
Non-material part costs are determined by dividing the machine rate per hour by the number of units produced per hour.
Cycle time and the numbers of cavities in the mold are two critical factors that influence the overall cost of a plastic molded part. It is because machine rates in the injection molding industry are all extremely competitive.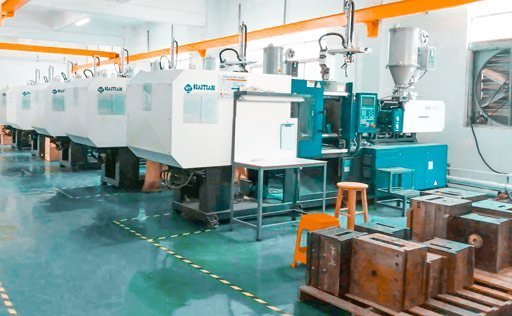 4. Extras and Packaging
Items in high demand, such as those listed below, can drive up the cost of piezas moldeadas por inyección, including:
Plating
Pintura
Retail Packaging
Secondary Machining
Poly Bagging
Layer Packing
Pad Printing
Cell Packing
Conclusión:
To get a more accurate estimate of the overall costs of production, you must first figure out what kind of material you're working with and how much of it (in pounds) you'll need to make your component. Following that, you must calculate the cycle time, labor costs, management fees, equipment costs, facility rental fees, electricity costs, post-production packaging costs, and, most importantly, a balanced profit.
It is difficult to find professional injection molding service providers who provide a reasonable and customized injection molding quote that is within your budget while prioritizing quality service in every way. This is due to the high costs associated with the injection molding process. In these situations, putting your trust in experienced professionals like those at Prototool can help you avoid making poor decisions about your manufacturing and supplying company.