Certifications: IATF16949:2016 | ISO9001:2015
A mold with more than one cavity cut into it to make multiple parts of the same material in one cycle is called a family mold. Typically, each of these cavities forms a different part number, which is ideal for prototype molds because of the fast molding cycles.
The family mold is a multi-cavity mold where each cavity creates different parts of the same product. The parts produced by each cavity may also be unrelated, belonging to the same product line or to the same project. Family Molds are great for manufacturing parts that are assembled together or maximizing the number of parts produced per operation.
Find high-quality Family Mold Services?
This is where you get it all. Request your free quote today, and enjoy the best Family Mold services.
Required Criteria for Our Family Mold Services
The family injection molding procedure has various benefits for the manufacturers and the customers. However, it also comes with some challenges and requirements that must be followed in order to get the best products to accomplish its application. Our expert team pays careful attention to all these requirements, including:
The Parts should be of the Same Material and Color
All parts produced through family molds must be the same material and color, as only one type of material can be injected into the mold at any given time.
Parts Will All Be Made in the Same Quantity
Every time the mold opens, the exact number of parts in the mold will come out. If the mold produces Side A and Side B to make one complete product, then each time the mold opens, it will produce enough parts to complete one product in every cycle.
Parts Must Have Similar Size and Volume
All cavities of the family mold are to be filled at the same time and rate. Having parts that vary in size and volume will cause issues with short shot and flash – cavities being underfilled or overfilled, respectively.
Materials Used for Family Mold
Here are the most commonly used materials for family molding:
ABS
ABS/PC
Acetal
Acetal Homopolymer/Delrin
ETPU
HDPE
LCP
LDPE


PC/PBT
PEEK
PEI
PET
PETG
PMMA (Acrylic, Plexiglas)
Polycarbonate
Polypropylene


LLDPE
Nylon
PBT
PPA
PPE/PS
PS
PSU
TPU
For our family molding services, we are typically able to maintain a machining tolerance of +/- 0.003 in. (0.08mm) with an included resin tolerance that can be more than but not less than +/- 0.002 in. /in. (0.002mm/mm).
We offer multiple finishing options to complete the products made with the family mold process. You can choose from any of the following depending upon your application's requirements: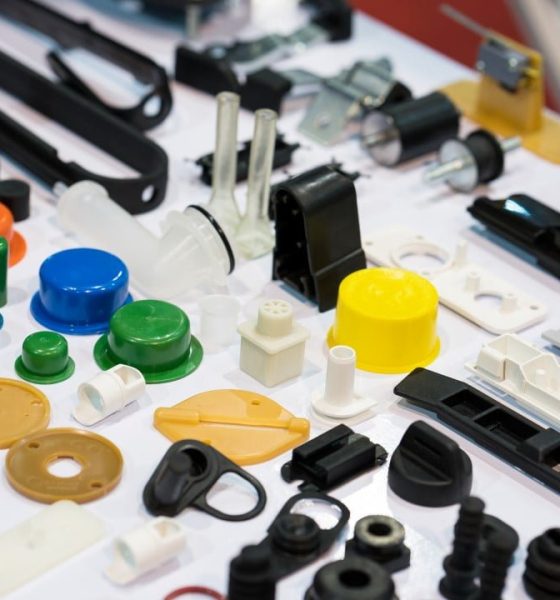 Standard Finish
Interior, non-cosmetic finish according to the geometry of the mold. SPI Finishes Range of SPI finishes from Grade 3 diamond / high polish to 320 stone low polish. These Finishing options include SPI A-1, SPI A-2, SPI A-3, SPI B-1, SPI B-2, SPI B-3, SPI C-1, SPI C-2, SPI C-3, SPI D-1, SPI D-2, and SPI D-3.
Threaded Inserts
We can install the most commonly used and popular standard inserts in UNF and metric sizes. As Molded as the name suggests, the mold will remain 'as it is' – without any secondary texturing or polishing.
Mold Texturing
Creating textures on the molds so that it shows on the final product. This finishing option includes matte, swirls, patterns, and lines.
Laser Engraving
Engrave part numbers, designs, logos, or any other specified printing onto your parts.
Pad Printing
Application of an ink-based design to the surface.
Painting
Painting the surface with standard colors or Pantone matching, including Primer and topcoat. Masking available; EMI (copper) paint.
Family mold injection molding is a popular manufacturing procedure used across a wide range of industries to make sets of different parts that are similar or may fit together, like two halves of a single product. This process is ideal for:
We never require a minimum order volume, and we use advanced quotation algorithms to get our clients reasonable pricing according to their budget.
Industry-Leading Equipment
We utilize industry-leading equipment to ensure that our family mold services are completed to your 100% satisfaction.
We make sure that each product, no matter how large the volume of production is, has the highest level of quality.
Our manufacturing processes enable us to meet our customers' requirements and specifications in the best way possible.
A family mold is an injection molding manufacturing process that combines different part numbers into the same mold base. There can be multiple cavities of the different part numbers. This production process allows the creation of different components of the same product in a single cycle using a single mold.
Lower Tooling Cost
A family mold can be created with multiple cavities instead of creating multiple, single-cavity injection molds and paying the tooling cost for each one.
Lower Production Cost
Family molds help reduce production costs as the production time is lowered since there is no need to change molds for different parts. Consequently, the per-piece price of each part goes. 
Efficient Production
Using family molds when the production quantity is not very high in volume helps by manufacturing more than one part in one production cycle since two or more parts are produced in every shot.
Scalability
Making a large volume of parts with a single cavity mold would take up the resources for weeks or even months. A family mold, on the other hand, can substantially reduce production costs and turnaround time while boosting scalability.