Precision machining plays a central role in rapid prototyping y mass manufacturing in numerous sectors. Precision numerical control machining can perform several machining processes to create parts. It renders many distinctive benefits such as accuracy, excellent quality, and cost-effectiveness with superb processing efficiency and durability. To come up with the product qualities customers want, some factors are essential to consider before starting production. Like suitable CNC materials selection, required processes, tools, lubrication, finishes, etc. As for as materials are concerned, they are highly pivotal and should be selected with proficiency and mastery skills.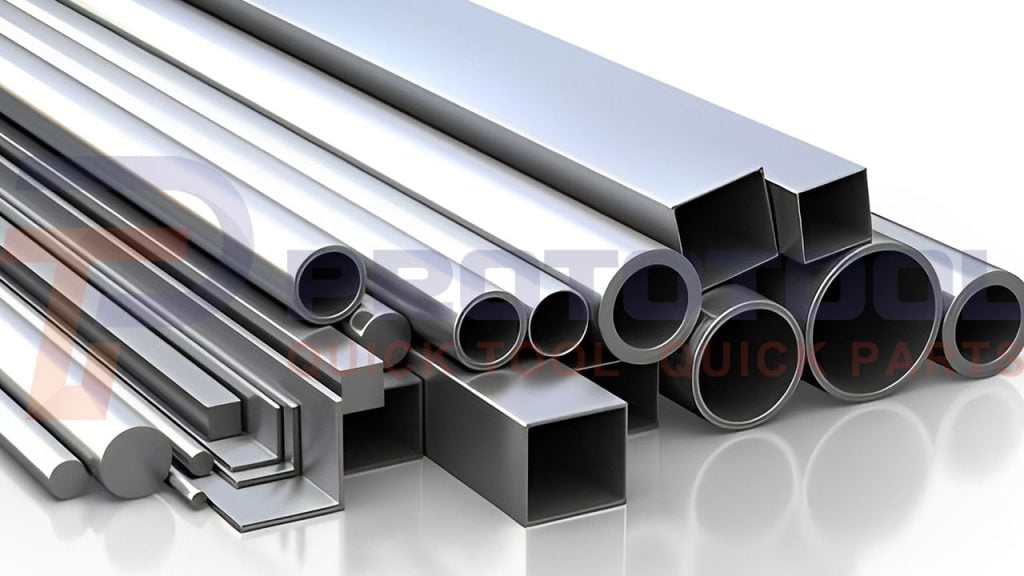 CNC machines process a diversified range of materials such as metals, plastics, wood, and foams. With substantial materials availability, the selection process should be carried out carefully. The material that possesses all the required attributes will be optimal for machining.
Apart from materials, the expertise and skilled team are also indispensable. When it comes to world-class machining facilities, you can confidently choose Prototool, A globally respectable and trusted name in manufacturing and rapid prototyping.
This article discusses all you need to know to choose the best CNC machining material. Especially steps to pick the most pertinent CNC material, most commonly used materials, their properties, and vital factors influencing the selection are covered along with other critical concepts.
Steps to Pick the Right CNC Material
Materials are crucial to get fine-quality end products. We must pay considerable attention to the selection process. So here are three chief steps used to pick the suitable CNC machining material. These include:
Determine the Product Requirements
List All the Qualified Materials
Finalize the Most Suited Material
1: Determine the Product Requirements
The first step in the material selection process is the determination of product requirements. It incorporates a detailed analysis of the attributes that customers want on their part. These product attributes may include the degree of precision, thermal stability, tensile strength, corrosion resistance, formability, rigidity, cost-effectiveness, etc.
2: List All the Qualified Materials
In the second step, we will identify all those materials that qualify and satisfy the product's requirements. Sometimes, customer demands such properties that a singular material don't have. So this list may include those materials too that qualify partly.
3: Finalize the Most Suited Material
So, in the end, we will choose a material from our list. Remember, go for the one that brings off most of the attributes. Remember, cost plays an important part in material selection. If, say, two materials are qualified, then what do you do? Just go for the cheaper one.
Materials That Can Be CNC Machined
CNC machining is so versatile that it can machine a huge variety of materials. Commonly machined CNC materials are discussed as follows. You can pick any of them as per your project requirements.
Metals
Computer numerical control technology can process many metals, including their families and grades. These include Aluminio, Acero inoxidable, Titanio, Latón, Cobre, Magnesium, etc. As aluminum has numerous manufacturing-friendly properties in abundance. So it's the most commonly used machining material.
Plastics
The most widely used plastics in precision machining are Acrylonitrile Butadiene Styrene (ABS), Acetal, Nylon, Acrylic, Polycarbonate, Acrylic, Delrin, Polyvinyl Chloride (PVC), High-Density Polyethylene (HDPE), Polyether Ether Ketone (PEEK). But Acetal, PEEK, and PVC plastics offer superior machining characteristics.
Woods
Predominantly, there are two types of wood i.e., hardwood and softwood. Maple, ash, cherry, and walnut belong to the hardwoods category, while cypress and cedar are considered softwood.
Foam
Carving and rigid foams are largely machined and used in many applications in different industries.

Some Important CNC Materials, their Characteristics, and Applications
Some important CNC machined materials, their characteristics, and their application are elaborated on in this section of the article. Every material offers a distinct set of properties and has advantages and disadvantages.
Acero inoxidable
Stainless steels are ferrous alloys that consist of at least 10.5% chromium, less than 1.2% carbon, and other alloying elements. They have excellent corrosion resistance and mechanical characteristics. These characteristics can be improved by adding some other elements such as nickel, manganese, molybdenum, niobium, etc.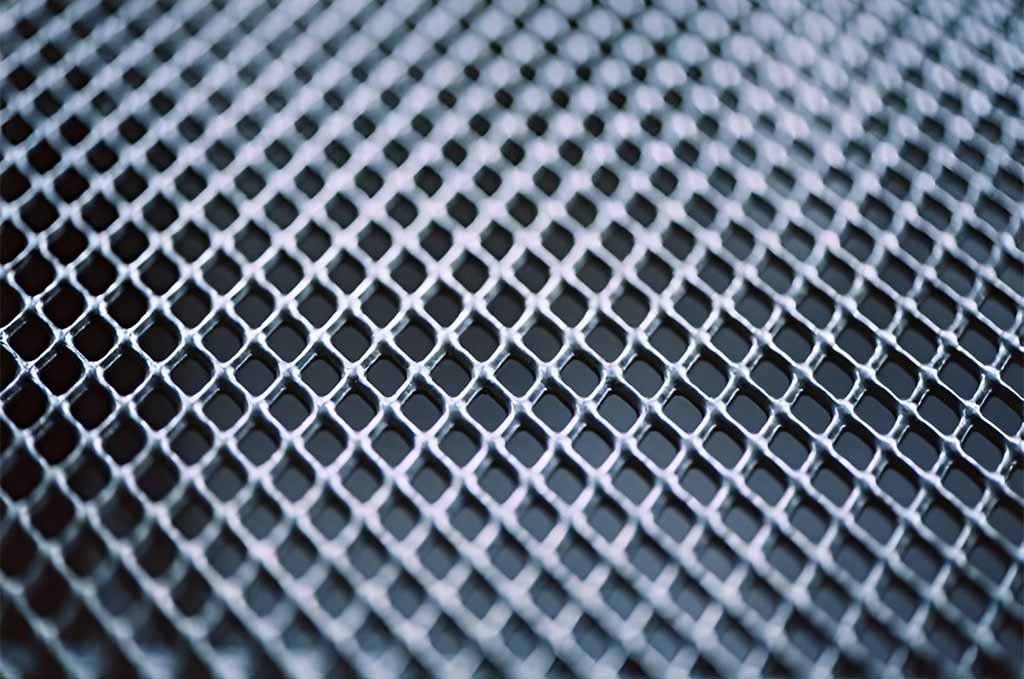 Mechanical properties of stainless steel are Tensile Strength, Cryogenic Resistance, Ductility, Higher Work Hardening Rate, Electric Conductivity and Magnetism, Temperature Resistance, Easy Formability, and Fabrication.
Many industries use stainless steel to create products ranging from planes to pipes, pumps, and kitchen sinks. Automotive, Aerospace, Culinary, Medical, Architecture, Oil, Gas, and Chemical industries consume stainless steel in heavy amounts.
Standard stainless steel grades are listed below: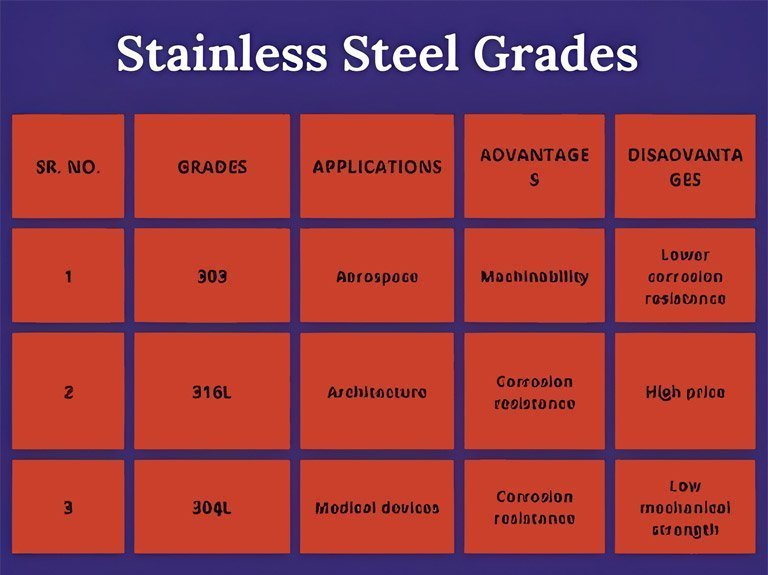 Aluminio
Aluminum offers a great many manufacturing-friendly properties. Therefore, it's a widely used CNC material. Aluminum is the 2nd most malleable and the 6th most ductile metal. Corrosion Resistance, Lightweight, High Thermal Conductivity, and Excellent Machinability are some of the properties of this metal.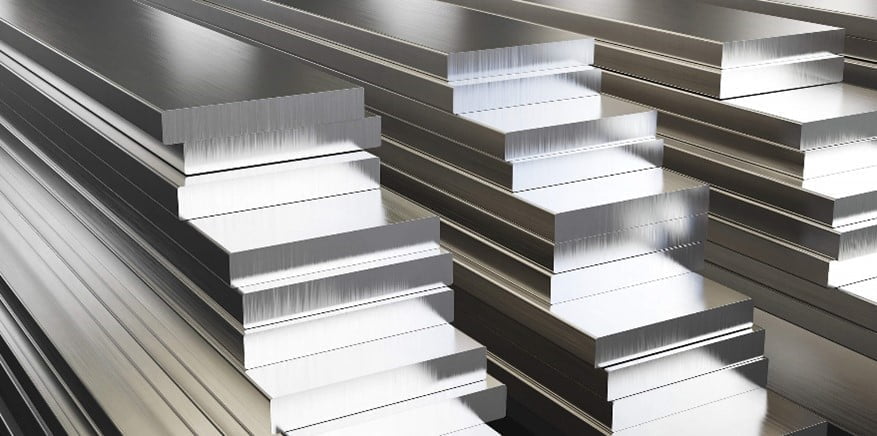 Aluminum can react with other metals to form alloys. Aluminum 6061, 7075, 2024, 6082, 3003, and 5052 are commonly used CNC-machined aluminum alloys. Defense, Aerospace, Automotive, and Construction are the sectors that employ and consume aluminum in excess.
Commonly used aluminum alloys, their properties, and industrial application are shown in the table below: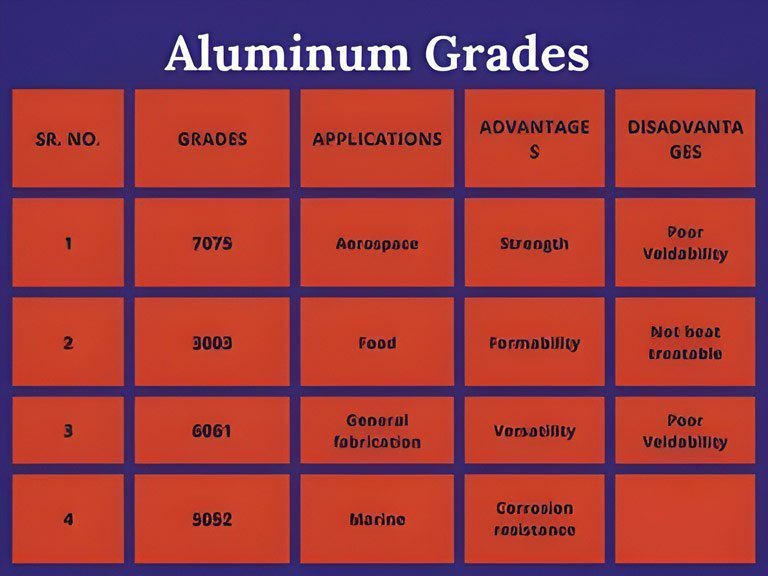 Some Other Metals
Apart from the metals discussed above, we have some other excellent metal material options consumed in precision machining. These are brass, copper, zinc, magnesium, titanium, etc. Customer requirements dictate the selection of any material to be finalized. These metals possess their distinctive attributes, application, merits, and demerits. See below the table to learn more about these CNC machining materials: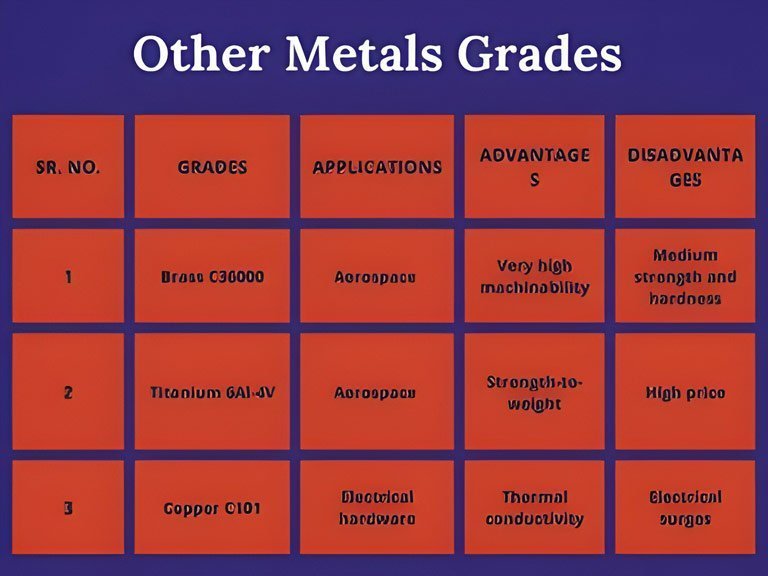 Plastics
Like metals, plastics are also acknowledged by many industries and found their widespread industrial application. The computer machining process subtracts the plastics with greater efficiency as it machines other CNC materials.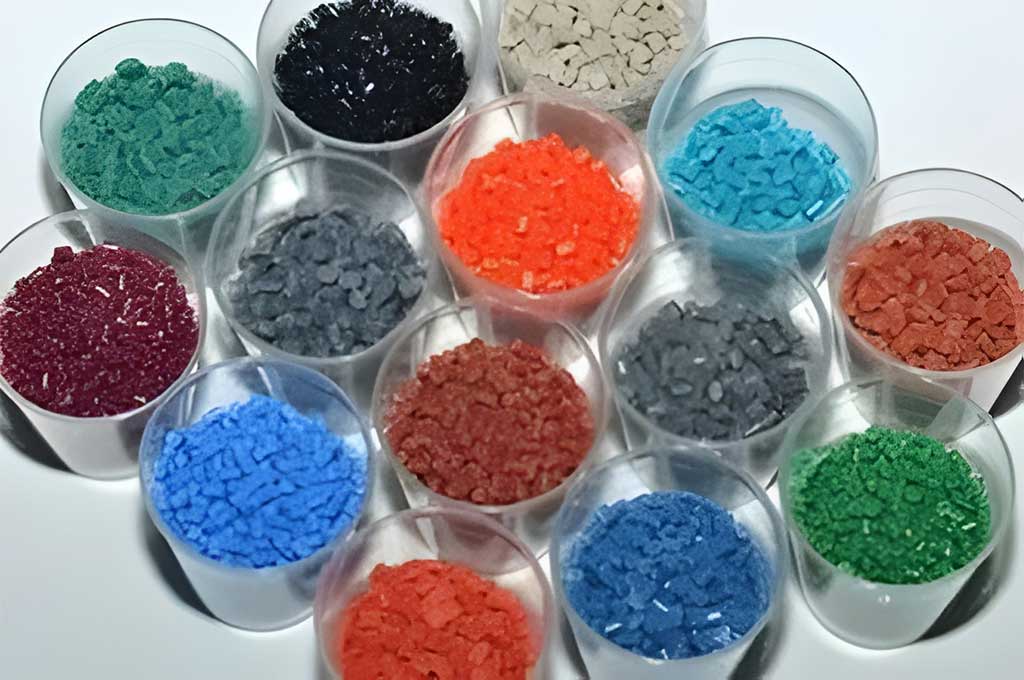 Plastics have their discrete grades. Each of them offers great properties. Below is given a table discussing different CNC machined plastics grades: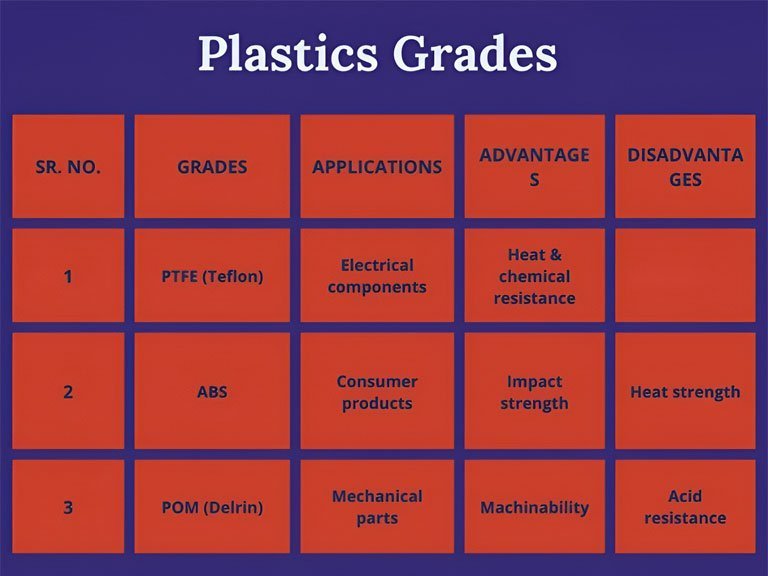 Factors need to be Considered When Choosing Materials for CNC Machining
Some crucial factors need to be taken into account before finalizing your CNC material. Consider them subsequently, and you will reach the most suitable material for your projects.
Product Usage
While getting the product requirements from customers, ask them where the product will be used. Inquire about the environment in which the part will operate or function. Every material has different properties and is used for dedicated applications. So, according to part application, materials with the most suited physical and chemical properties are chosen.
Dimensional Tolerances
Select such a material that offers excellent formability and easy fabrication. Because more machinability a material provides, it is easier to attain tight tolerances requirements.
Tolerance requirements depend on the particular industry as every sector demands different tolerances. For example, the aerospace and medical sectors demand ultra-high precision parts manufacturing. Thus they require greater dimensional tolerances.
Choosing materials with precise dimensional tolerances is paramount for high precision, cost-effectiveness, and flawless and on-time project completion.
Stress Load
Stress load means how robust the part should be. It is estimated according to the product application. Once you evaluate the load stress, select a material whose load-bearing capability matches the best. Stress load needs to be calculated carefully. It might be critical in some industries.
Material Cost
Cost is the major factor affecting the whole CNC machining material selection process. Consider that material whose attributes are commensurate the most with requirements. But on the other hand, it should be a cost-effective or cheaper one.
Material Availability
Availability of the material is a big problem when you come to know in the middle of a mass-production project, especially when the material is exhausted and no anymore in stock. The procurement department should ensure availability before finalizing all the project details.
Conclusión
Mecanizado CNC offers a great range of materials. You can consider metals, plastics, wood, or foam. But customer requirements always dictate the material considerations. Go for the one that offers all the part attributes at reasonable prices.
The right CNC material choice is imperative to excellent and desired quality part fabrication. It would be best if you attentively considered all the factors mentioned above. If carefully taken into account, then you will be able to select a winning material for your next project.
But the most effective and efficient way to manufacture your parts with desired material properties is to contact who is the best in doing so. Yes, you can trustfully contact Prototool.
Prototool is the best-in-class global rapid prototyping y rapid tooling, low-volume manufacturingy finishing services provider. We have served numerous industries in different geographies of the world. We greatly value our customers and their business needs.
To proportionate our workshop with the evolving CNC technology, we invest considerable money in equipping our facility with the latest CNC machines and other technologies. So we can come up with our customer's expectations.
We have a great team of highly skilled and passionate designers, programmers, engineers, and technicians, who are ready to serve you the best CNC machining services.